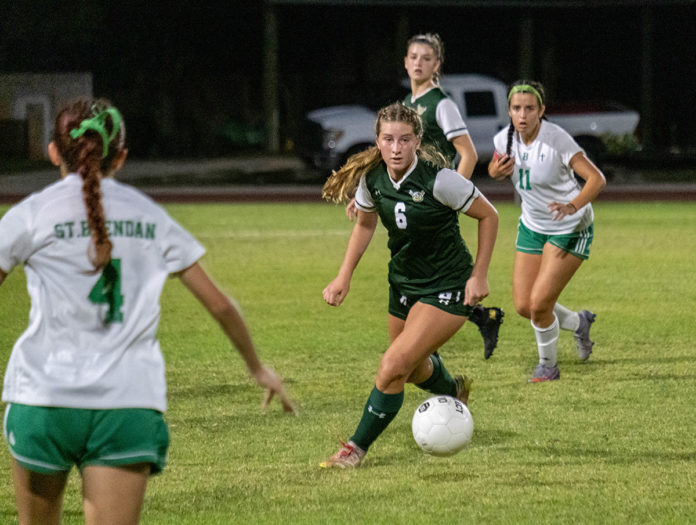 BOYS
Key West
Key West has achieved a 3-2 record early this season. The Conchs won at home against Keys Gate on Nov. 15, then took to the road three days later, defeating Dade Christian in a single half on Nov. 18 by mercy rule. Seven different Key West players scored in the game, including two by Jonathan Gvili and Daniel Quiche and one each from Jonathan Bahri, Loubins Fleuridor, Jan Charles, Finley McKnight and Nicolas Silak. The 10th goal scored in the match was an own-goal by Dade Christian. The Conchs play again on Monday, Nov. 28 at Boca Raton.
Marathon
An 8-0 loss to Palmer Trinity School on Nov. 19 gave the Dolphins a 1-2 record to start the season. The Fins will have plenty of opportunities to add to their win column coming back from Thanksgiving break – they play four games in five days, starting with a rematch of their defeat by Coral Shores on Nov. 28.
Coral Shores
Coral Shores sits on an even 1-1 record after a 6-0 loss against St. Brendan on Nov. 15. The Sabres had the advantage of a larger division and in the second half, played with the advantage of an uneven lineup. The 'Canes had four double yellow cards handed to them, forcing them to play 7 on 11 for a good part of the second half of the match. Coral Shores has three games the week following the break, starting with Marathon on Nov. 28 on home turf.
GIRLS
Key West
A victory over Lemon Bay on Nov. 19 gave the Lady Conchs a solid 3-1 start for the season heading into the fall break. Prior to their 4-2 win over Lemon Bay, Key West enjoyed an 8-0 mercy rule victory over Keys Gate on Nov. 15. Scoring for the Conchs were Kathryn Smith, Nicole Tomita and Ella Baxter with two goals each, and Maddie Kilduff and Kaitlyn Franco with one apiece. Their game against Port Charlotte was canceled just before the break, making their next game an away matchup against St. Brendan on Nov. 30.
Marathon
Heading into fall break, the Lady Fins sit at 0-1 after a loss to Somerset Silver Palms on Nov. 15. The Dolphins got off to a slow start but got things going after a second half goal from Jordan MacDonald followed by a Sara Strama goal 10 minutes later. Rain Banks' penalty kick hit a corner late in the game, giving Marathon three on the board, but it would be too little, too late to overcome Somerset's first half onslaught. The 9-3 loss is the team's only game in the books until Nov. 29 when they take on Archimedean on the road, but the Fins will likely add a win by forfeit over Everglades Prep, who failed to secure referees for their game scheduled for Nov. 16.
Coral Shores
Coral Shores took on powerhouse St. Brendan at home on Nov. 17. The 'Canes held their own with the larger 2A Sabres, narrowing the margin of loss from their last meetup by two in a 6-0 defeat. Coral Shores plays next at Pace on Nov. 30.