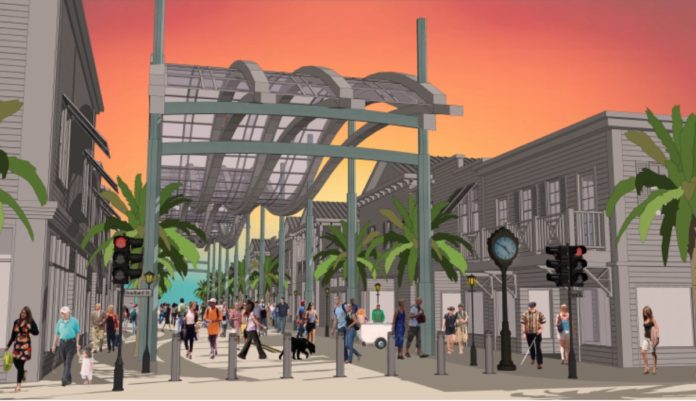 Consensus. Common ground. Compromise. Community input.
The company leading the Duval Street revitalization project expects to begin gathering public input about priorities and ideas in the next six weeks or so, Bruce Reed of KCI Technologies told the city commissioners on Feb. 2.
The company's plan to solicit input from stakeholders was one of the reasons the commissioners selected KCI to manage the Duval Street upgrades, Mayor Teri Johnston reminded the commission on Feb. 2. Commissioner Sam Kaufman asked Reed to give them plenty of notice about upcoming public meetings so the commissioners can share the information with their constituents.
"We will create a public outreach plan that is engaging and accessible," KCI states in its response to the city's request for qualifications (RFQ). "The public outreach will be guided by our marketing campaign of #DestinationDuval, #DowntownDuval, and #DesignDuval to create excitement about the future of Duval Street.
"Using social media and traditional forms of communication, we will begin an outreach campaign. We will contact all local news outlets to broadcast opportunities for public involvement. …We will also create an interactive website that will include polls about the financial market, user expectations, and design scenarios. … The design process will begin with a charrette/design workshop open house," the KCI proposal states. "We envision creating a three-day process with city staff that will be held in a pop-up design studio on Duval Street. We will identify an available storefront or restaurant space that will allow residents, business owners and even tourists to drop in and participate.
The proposal also says, "We will identify opportunities for public art and transformational elements along the street."
In a community where common ground can be a precious commodity, the process could be an arduous one.  
"The goal of the project is to renovate and revitalize Duval Street," the city's RFQ states, "to increase opportunities for public use as an iconic civic space for leisure, commerce and tourism; address the infrastructure which will allow for reasonable maintenance frequency and reduce costs to businesses and taxpayers; improve safety for pedestrians and vehicles; and maintain mobility for desired transit operations for all users."
In its response, KCI states, "Our approach to the transformation of Duval Street will include identifying design elements to bring visitors from the Lower Duval Street area all the way to the Upper Duval Arts District. Imagine art suspended in the air along the middle of Duval Street coaxing visitors to explore the entire street, the paths with shade trees, with flexibility for all modes of transportation.
The response added, "when we design streetscapes, we need to plan for cars, delivery trucks, trolleys, golf carts, bicycles and pedestrians. We also design for the special celebratory events that turn great streets into linear pedestrian plazas.
"Our approach will take into consideration the residents surrounding Duval Street, the cultural arts businesses, the retail and dining opportunities, and the entertainment establishments. One size will not fit all. Additionally, the design will find ways to provide connectivity to Mallory Square, Pier B, Bahama Village, the Historic Seaport, and beyond Old Town. A priority of this project is to bring residents to Duval Street and make access easy, enjoyable and frequent."