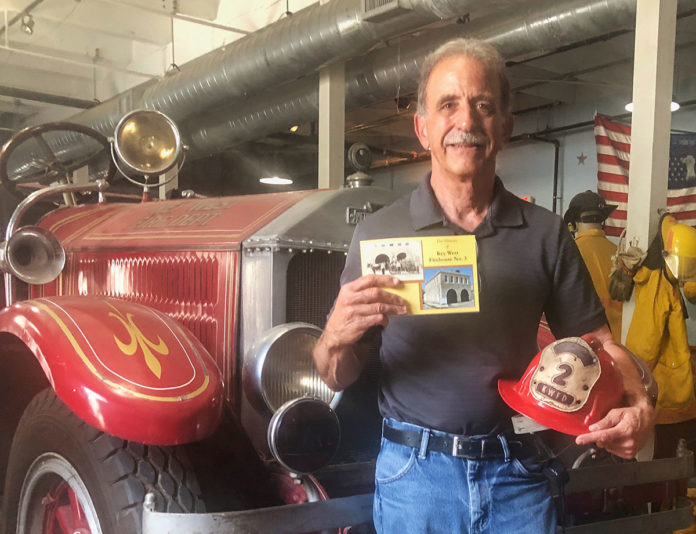 Alex Vega loves history. So much so that in 1992, when the City of Key West wanted to demolish and redevelop the 135-year-old firehouse on the corner of Grinnell and Virginia streets, the former fire marshal and department historian stepped in with both feet to preserve the deteriorating building and all it represented.
"They were talking about making it a parking garage. Then they talked about condos. So I talked to the chief and said, 'You know, shouldn't we do something different than that, something better?'" Vega recalled recently.
He set in motion efforts to restore and preserve Fire Station No. 3, founding the Old Fire House Preservation, Inc. nonprofit organization and securing grants from Tallahassee and local donors to create The Key West Firehouse Museum, 1026 Grinnell St. Local officials thought he was wasting his time, that no one would be interested.
"I said, 'You'd be surprised who will come.' They come from all over the world — Germany, England, New Zealand, Australia. They come from everywhere," he said. "How does the old saying go? Build it and they will come? Yeah. So that's where we are now."
The retired second-generation firefighter is president of the Key West Firehouse Museum and since the recent passing of retired fire chief and museum volunteer Edwin "Eddie" Castro, only Vega and one other volunteer, Rich Siniscalchi, run the museum (hint hint: volunteers are needed). It's been a labor of love for Vega for nearly three decades.
Vega has given countless tours of the two-story museum that's filled with prominent artifacts, including a century's worth of badges, a fire pole, an antique fire truck, a section of the World Trade Center that collapsed on 9/11, as well as red shoes and a desk that belonged to Key West's infamous fire chief Bum Farto, who disappeared in the 1970s just before he was due to be sentenced for selling cocaine.
Vega points to a glass case filled with cigar boxes, a tribute exhibit to the industry that flourished in Key West before fires turned the wooden cigar factory buildings, and sometimes entire blocks, into ash.
"I've always been interested in history," Vega says. "My grandmother told me stories about the cigar factories where she worked. My grandfather, too. Women did certain jobs there — not many of them rolled (tobacco). They stripped — they call them strippers. Not that kind of stripper. They never were able to be the lector (who would read aloud to the toiling factory workers), but they let her read one time when she was 12 because she had such a good voice and would use expression."
Storytelling is as much a part of Vega's DNA as firefighting. His words are a bright flame painting vivid pictures — how his family came from Cuba more than 100 years ago, how they worked in the factories and owned their own bakeries. These oral narratives are as important as the artifacts the museum strives to preserve.
"I would hang out on the bench with firemen who were here in the 1920s and '30s and some in the '40s and they would tell me all the stories from back in the old days. I'm like, man, these stories really sound fascinating, you know, if you like history. It's a shame they aren't being written down or saved."
Vega captured the voice of some of those old timers and others who worked there to create "The History of the Key West Firehouse No. 3," a fascinating collection of vignettes published in 2011 and sold at the museum.
Firehouse Number 3, Vega says, was a true neighborhood station, where neighbors gathered with the crew in the morning to drink coffee, tell stories, play cards. Everyone knew each other. Some joked that it wasn't just a different firehouse — it was a different fire department that did things the way they wanted.
"There were firemen here from the 1940s when I came, and plenty from the '50s. So these guys had spittoons and would spit chewing tobacco, they would smoke cigars. I mean, these guys were a rough group. But if they liked you, you had no problem. If they didn't like you, they'd transfer you back out. You had to do things how they said. You had to mop the floor a certain way. You went against the grain? Nope. Whatever they told you, you did. We'd say, 'But the book says' and they'd say, 'We don't care what the book says. This is how we do it.'''
Vega recently turned 70. He's eager to pen another book — about the Key West Fire Department — from the many notes he's saved since he joined the department at 22. He says it's time to pass the torch, let someone else step up to lead and share the traditions that have been so thoughtfully saved.
"We've done our job," he says. "I'll tell them everything they need to know. Get them in the right direction. Let's see who steps up."