The Florida Keys' tourism board on Nov. 16 addressed a troubling, but preliminary audit of its financial operations conducted by the county clerk's office.
The board voted to suspend Tourist Development Council director Stacey Mitchell with pay while an independent firm conducts a follow-up forensic audit. The board also voted to hire a firm to perform a financial risk assessment, then appointed two of its own members to oversee the agency's continuing sales and marketing efforts during Mitchell's absence. 
The county clerk's audit of the Monroe County Tourist Development Council — the agency's first audit in more than 20 years — was released Oct. 31 and revealed "repeated noncompliance" with the county's purchasing policy, ethical concerns and "appearances of potential self-dealing and double billing."
'No double-billing,' says county attorney
In one finding, the Oct. 31 audit report states that the TDC's longtime contracted public relations firm, NewmanPR, appeared to engage in "double billing," alleging the company billed the county separately for services already included in its overall agreement with the TDC.
But a week before the Nov. 16 TDC board meeting, during the Nov. 8 meeting of the county commission, which oversees the TDC, County Attorney Bob Shillinger had addressed the double-billing finding in reference to NewmanPR and its owner, Andy Newman.
Shillinger on Nov. 8 said his office, in the wake of the county clerk's audit, had conducted further research into NewmanPR's contract with the TDC.
"In my view, no double-billing exists for these services under the provisions of the contract," Shillinger said at the county commission meeting and wrote in a Nov. 7 memo. "…It is my opinion that the invoices for photography or videography services and production are not … included in the agreement's scope of services, and therefore are not included in the annual … agency fee." In other words, Shillinger's team learned that NewmanPR was not billing the TDc twice for the same services.
Andy Newman spoke at the Nov. 16 TDC board meeting in Key West, which was specially called to address the audit, and reminded the board of Shillinger's statement and memo from the week prior.
"This felt like a rusty dagger had been stabbed through my heart," said Newman, who has handled PR for the Florida Keys for more than 30 years. "The audit did not include comments or explanations from NewmanPR, which is not typically the way audits are done. And at last Wednesday's county commission meeting, the county attorney's office presented a memo that concluded that NewmanPR was NOT double billing. I never knowingly would and I never knowingly will."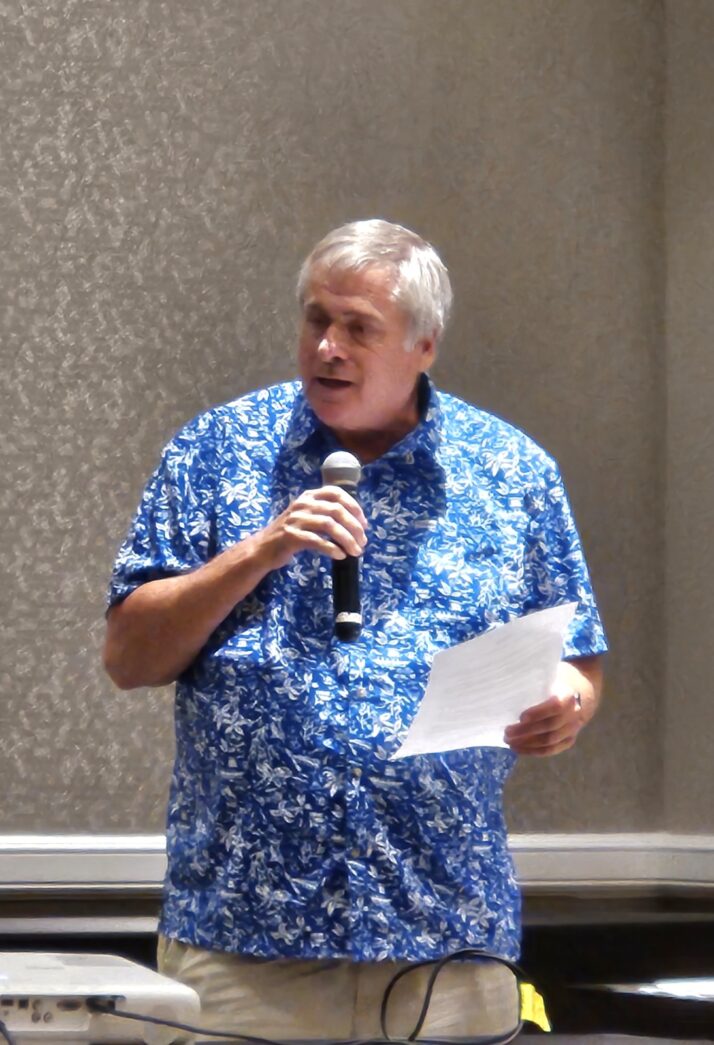 Interim management
TDC board chair Rita Irwin reported that the forensic audit of the TDC by an outside agency will begin Nov. 28 and could take up to 16 weeks, but could also be completed much sooner, depending on their findings.
Irwin emphasized that policy and procedural corrections as well as additional staff training that were recommended by the county clerk's auditors have already begun with help from assistant county attorney Christine Limbert-Barrows and county finance director Tina Boan.
In the meantime, the county and TDC have hired the firm of Cherry Bekaert to conduct a financial risk assessment of the TDC's internal controls and policies, and provide a "roadmap" to close any gaps that are discovered and correct any deficiencies.
The firm of Cherry Bekaert will oversee the TDC's financial operations for the next few months, but several board members, including Irwin, emphasized the importance of continuing the TDC's tourism marketing efforts while Mitchell, a marketing veteran, is on suspension.
(The TDC collects four cents on every dollar spent in Keys lodging establishments — hotels, guesthouses, vacation rentals and RV parks. The TDC uses that money, known as "bed tax" revenue, to advertise and market the Keys to visitors, promote special events that bring tourists to town, to pay for beach cleaning and renourishment and to support renovations and construction of projects that will draw tourists.)
"We're in a unique situation in that we're having to fix this bike while we're riding it," Irwin said. "Sales and marketing are not part of the Cherry Bekaert firm's expertise and I'm concerned about keeping those efforts moving forward."
After a lengthy back-and-forth, the TDC board ultimately voted to appoint two of its own to help oversee the agency's ongoing marketing work. Hotelier Diane Schmidt and George Fernandez, longtime owner of the Key West Butterfly & Nature Conservatory, both have extensive marketing and advertising experience, and agreed to step in and help with marketing efforts while the forensic audit takes place.
Key West Mayor Teri Johnston, one of the three elected officials on the TDC board, was the lone dissenting vote in approving Schmidt and Fernandez, saying, "We need a fresh pair of eyes, not coming in with any preconceived notions."
Johnston said, "We've had a massive erosion of public trust and confidence," and urged the board to work to repair that.
"We need to show the public that this is being handled and regain their trust," said County Commissioner Craig Cates, another elected official on the TDC board.
Plenty of blame…
TDC Director Stacey Mitchell voluntarily left the room during the Nov. 16 TDC meeting when it came time to discuss and decide on her paid suspension, which the county commission recommended on Nov. 8 and which the TDC board approved on Thursday.
During the ensuing discussion, several people, including TDC board members and local business leaders, said there was plenty of blame to be shared by many for the audit's revelations. Mayor Teri Johnston pointed out that no audit had been conducted of the TDC for more than 20 years.
"Let's remember, this entire board was in place when all of this was allegedly occurring," Johnston said. "Fingers are pointing to Stacey [Mitchell], but what about everyone else, since at least 2008 — people in the clerk's office approving payments, the TDC's own board treasurer reviewing financial statements. There was more than one hand in this and what fingers are being pointed? Maybe the clerk's office needs to be addressed. Maybe the county needs to be audited as well. There was apparently a lack of oversight long before Stacey Mitchell was appointed director in 2017."
Vicki Tashjian, a member of one of the TDC's district advisory committees that directs tourism funding for projects in specific regions of the Keys, added, "What happened didn't just start five years ago (which is the timeframe examined by the audit). Others deserve a smack for the lack of an audit for so long. And we all need to keep in mind the trustworthiness of Stacey Mitchell and Andy Newman."
Jodi Weinhofer, president of the Lodging Association of the Florida Keys & Key West, which works closely with the TDC, garnered several nods of support when she said, "Maybe we've all been naive in saying the TDC doesn't need a CFO (chief financial officer). Guess what? I think the auditors will tell us we need a CFO. We don't need to worry about blame. The bottom line is we're not doing things to the best and highest standards and we need to fix that quickly."
Richard Tallmadge, longtime Key West business owner, reminded the room that when the TDC was launched in the Keys in the late 1980s, "it had $2.9 million to work with. Today you're over $64 million. Honestly, it's about time this happened. Now fix it and get on with it."