Are painted boobs legal on Duval Street during Fantasy Fest?
That was the underlying question, although it was never specifically asked during Wednesday's meeting, when commissioners had to decide whether to designate the usual 10-block Fantasy Zone in the evening hours of Fantasy Fest's busiest weekend. The meeting included another hour-long debate about nudity, nipples, body paint and genitalia, after which officials voted 6 to 1 in favor of the Fantasy Zone, with Mayor Teri Johnston the only dissenting vote. The commissioners also agreed to work on rewriting the city's nudity and body painting rules for the 2023 Fantasy Fest.
Police Chief Sean Brandenburg explained the situation when discussing the police department's role in enforcing the city's laws. Chief Brandenburg, along with Code Compliance Director Jim Young and Fire Marshal Jason Barroso all strongly encouraged the commissioners to approve the Fantasy Zone that includes Simonton, Duval and Whitehead streets from Front Street to Truman Avenue.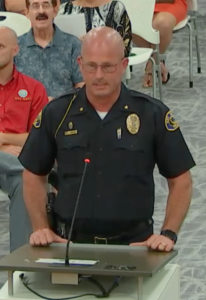 Mayor Teri Johnston vehemently opposed a Fantasy Zone, saying it encourages people to be nude on the city's main street. "We host all kinds of events that are very successful that you are not nude at," Johnston said. "I don't know of one other community in the U.S. that would say, 'Yes, please come into my hometown and be nude on my main street.'"
The mayor said the festival's popularity has been declining in recent years with smaller parades and less participation, and added that each year, elected officials hear complaints from residents about it.
Johnston also pointed to a memo submitted to city officials the day of the meeting by festival director Nadene Grossman Orr and the founding group that owns and has produced Fantasy Fest for the past 40 years. In that memo, Grossman Orr discouraged a Fantasy Zone in light of the mayor's desire to change the festival's reputation.
"I think you're going in a great direction," Johnston told Grossman Orr during the meeting Wednesday. "And we have the first opportunity in 40 years to move this event in a different direction."
But concerns arose about enforcing new rules after 40 years of tolerating certain behaviors, namely painted breasts that are not covered with anything other than artistically applied paint.
Chief Brandenburg emphasized to the commissioners, "We do not tolerate nudity any time of the year. You cannot and do not expose genitalia during Fantasy Fest or any other time of the year," he said, adding that violators typically aren't arrested. Rather, police get them to comply with the rules by covering their nether regions. "It's unusual to see people during Fantasy Fest exposing their genitalia. People typically get that part of the rules."
A debate ensued when Brandenburg reminded the commissioners that a designated Fantasy Zone is necessary if officials want to continue the tradition of allowing women to paint their chests without wearing any garments.
Johnston repeatedly said a Fantasy Zone is not necessary because women could be body-painted without being nude.
"But if , as a female, you want to be able to walk down the street with only body paint on your chest, then you need a Fantasy Zone," the chief said. Such an area specifies where a paint-only covering is allowed, and enables police to enforce the rules and make people cover their breasts when outside of the downtown Fantasy Zone.
The mayor insisted, "The only thing the Fantasy Zone does is indicate to people that you can come down to that area naked."
"No," the chief replied. "The Fantasy Zone allows people to walk around with only paint on their chest and with open containers of adult beverages."
"So you can't wear a bra top and be painted and be legal?" the mayor said.
"See, there you just changed it. You added a bra top," the chief replied to chuckles from the audience. "Our nudity ordinance reads that from the top of the nipple down has to be covered."
Brandenburg emphasized again to the mayor that most women who choose to have their chest body-painted do not and have not traditionally worn bra tops in addition to the paint.
"I'm not trying to be argumentative. I'm not part of the marketing or messaging of Fantasy Fest. I'm here for enforcement. We're going to have to agree to disagree on this, ma'am.
"We have to have something in place for there to be opened containers allowed on the streets and if women want to walk around with nothing but body paint on their chest, there has to be a Fantasy Zone."
Code Director Jim Young agreed, as did Fire Marshal Jason Barroso.
"We need an area for containment, so that the people who have been coming for years can be body-painted; otherwise you're going to have an enforcement nightmare."
At that point, Commissioner Greg Davila joined the discussion and pointed out that the city's current ordinance allows women to cover their chest with only paint, but only during Fantasy Fest and only in the designated area.
"Law enforcement has to enforce what's on the books. Logically, this has to be fixed in our code," Davila said, adding that the festival production group's opinion is just an opinion, but that it's up to the city leaders to write and enforce the city's laws.
Commissioner Mary Lou Hoover then reminded the mayor that her characterization of the event as declining in popularity in recent years wasn't necessarily fair given the diminished crowds, capacities and additional restrictions during the pandemic.
"I think we're swinging the pendulum way too far to the other side," Hoover said to applause from the audience. "People come here expecting to express themselves with body paint and costumes. We've been doing that for years, even in the Friday locals' parade. And yes, we have some brilliant costumes, but also some amazing body painting and I don't think anyone has ever really objected to that until now.
"Law enforcement and code feel they need a Fantasy Zone for enforcement and I think we should give this to them." Hoover added that July is "way too late in the game" to be changing the rules for an October event. "We need to tell them this year that things are going to change for next year, if in fact that's the case. And I don't think our lodging association, chamber of commerce and local businesses are going to be very happy if we take this event in a direction that destroys it."
"I don't know when we express respect for our community and our residents," Johnston insisted. "We allow ourselves to do things for the almighty dollar that no other community would do. And it really degrades this community."
Commissioner Jimmy Weekley then urged the commission to support the city's police and code departments "and then direct the city attorney to rewrite the ordinance for next year."
Resident Diane Beruldsen told the commission that the event has become "raunchy," and is due for a change.
Resident Rick Haskins then chastised the mayor for not listening to the police chief and others who told the commissioners what they need to enforce the current laws.
"Please, you are up there representing all of us," Haskins said. "Please represent all of us, not just your opinion, or who you want to represent. There are seven of you. Please speak up for our city staff and for the people you're asking for recommendations and advice."
Haskins then told the mayor, "City staff and other commissioners are telling you things, and I can hear you every time they're talking, you're going, 'Yeah, yeah, yeah.' You're not listening. And then you're projecting what you're saying that they're saying. And all the rest of us in the audience are back there going, 'That's not what they said. That's not what they said at all.' I think you're a great person, but you need to listen to what other people are saying. They're giving you advice and you're not hearing it."
Resident Margaret Romero, who is running for mayor against Johnston, told the commission and the audience, "I have the utmost respect for Chief Brandenburg and the men and women of our police force, our code officers and fire and EMS. I'm standing up for these people who take so much guff out there every day. They're telling you what they need. They know what they need to keep this city safe and to keep it going. I support all three of them to the hilt. It's time we respect and listen to them because they know best."